No End to 90s in Site
I know people are nostalgic for the 90s but this is getting a bit ridiculous. Like every other Sun Valley California resident I check the weather each day. My iPhone only goes out several days so I wanted to  see an extended forecast for as long as I could. I found one on the weather channel and it didn't do anything to lift my spirits.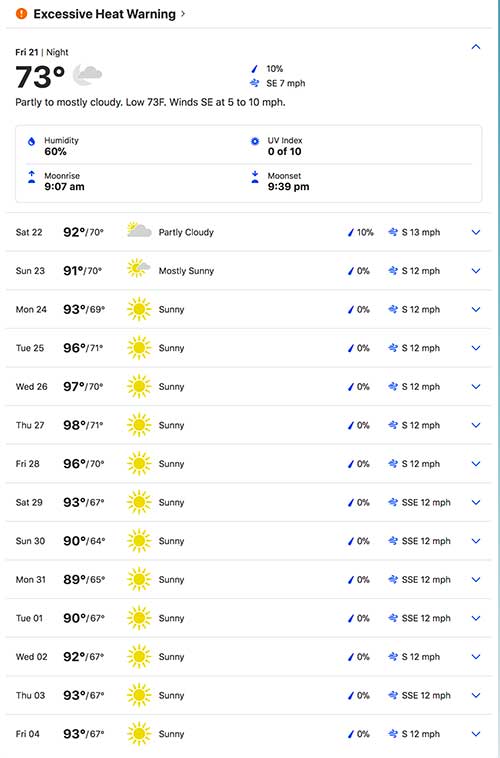 We are in the midst of several active fires around the Southland and it's fouling our air. The hot weather doesn't help firefighters battle the fires at all. I thought maybe we could get a break from some of this hot weather and that by the end of August temperatures it starts to drop. Boy, was I stupid! Well, maybe not stupid but overly hopeful and enthusiastic. Looking at the extended forecast, and you can see a screen shot of that image here, it's 90 degrees plus for the next week, the following week and into the beginning of September.
We need a break from the hot weather. We need a break from the smoke. We need an onshore flow to bring some cool ocean air into our city. Unfortunately, it doesn't look like any of that is going to happen anytime soon. We are going to be stuck in our homes, running our air-conditioning, facing rolling blackouts, terrible air quality, malaise from the coronavirus and who knows what else.
I guess I got my hopes up too high. I was hoping that when I looked at the extended forecast I would see a gradual decrease in temperatures over the next few days. Granted low 90s and high 80s are a lot better than the hundred and 7 degrees we were faced with just a couple days ago here in Sun Valley. Regardless, I'm just not thrilled with what I'm seeing. If I can take a quote from the old movie Airplane "It looks like I picked the wrong week to give up drinking!"
Summary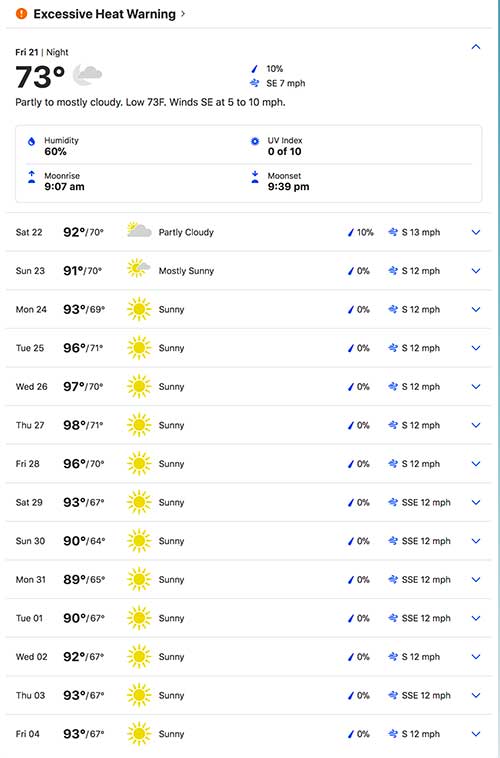 Article Name
Sun Valley Extended Forcast Has Jose Mier In Tears
Description
Jose Mier bemoans the endless hot weather we're facing in Sun Valley, CA
Author
Publisher Name
Publisher Logo