Jose Mier Notes Federal Tax Credits Decreasing Soon
The skies are getting cloudier these days in Sun Valley but that doesn't stop Jose Mier from thinking about solar panels and whether or not businesses in our city, as well as homeowners, should consider installing them if they have not yet already. In past years Federal and State credits for solar panel installation were considerable, but as we move closer to 2021 those rebates and incentives are decreasing and by 2023 Will be available only two commercial enterprises period
The average cost for solar panel installation runs upwards of two dollars per watt and with the average installation being about 5 kW you can see that the cost is going to be around $11,000. This website breaks down things a bit more. $11,000 is a large investment and it should be entertained only if you plan to be living in your house or occupying a commercial building for at least the next seven years which is the point at which you will recoup your investment due to energy savings.
Aside from Federal tax incentives the LADWP lists their solar incentives on their website. Check it out if you need more information.
As you can see from the screenshot I have on this page, taken from the solartech.com company website you can see that incentives are decreasing over time. Originally, around 2018 and before, tax credits were at 30%. This year they have decreased 26% and in 2021 and they will decrease to 22%. Finally in 2022 the amount of the federal solar tax credit will be only 10%. This means that if homeowners are businesses have not yet installed Solar panels it may be time to consider doing so.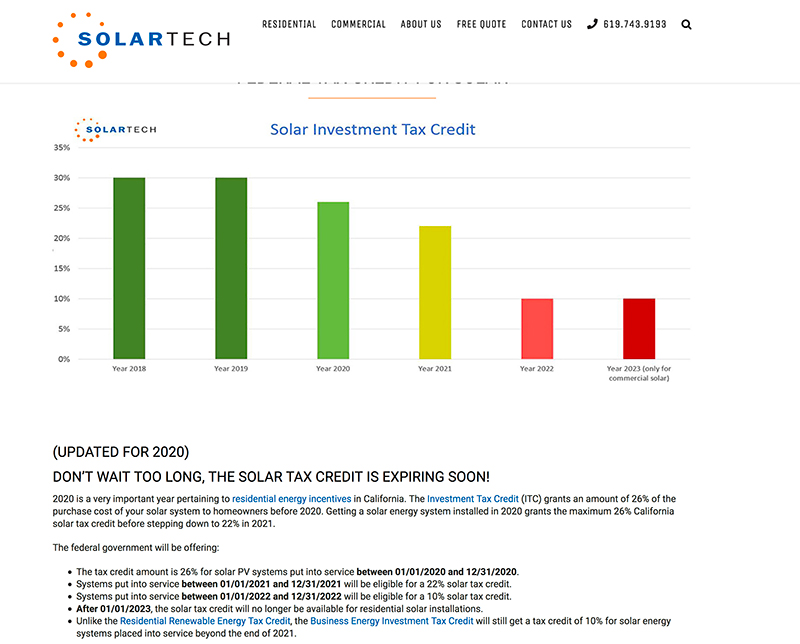 One of the good things about living in Sun Valley, California is that we have a tremendous amount of sunny days, meaning solar systems can capture and harness more energy then in other areas of the country, making it more attractive and a bigger incentive for Southern California residents. We mention all this merely is a courtesy to Sun Valley residents to remind them that time is running out to take advantage of reduced costs for solar panel installation.
Summary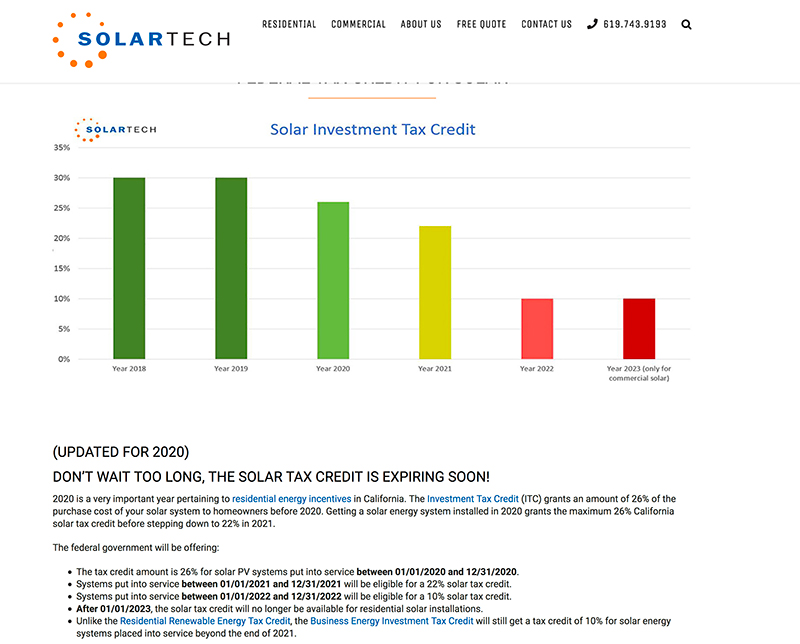 Article Name
Going Solar in Sun Valley
Description
Jose Mier tells Sun Valley, CA residents that federal tax incentives for solar installation are decreasing over the next 2-3 years. Time to save is running out.
Author
Publisher Name
Publisher Logo