Jose Mier Tours the Angeles National Golf Club
Join Me, Jose Mier, on my Sun Valley, California "things to do tour" as I look in greater detail at some of the most spectacular things we have to offer visitors to the Los Angeles area that most people don't know about. Case in point: Angeles National Golf Club.
Unless you're a regular to the Club or a resident in any of our nearby communities such as (ahem) Sun Valley, North Hollywood, Pacoima or Sunland-Tujunga, you probably don't know about this club. Of course, veteran golfers looking for every obscure and challenging course to play in the area know it but the vast majority don't and that's a shame.
Golf writers seem to agree that the course is a "hidden gem" and that's true. It really is out of the way unless you specifically drive to it. It's located in Sunland, CA, just a stones throw from the Sun Valley border and it boasts great views of the Verdugo Mountains close by. The fairways kiss the foothills in several sections making it a spectacular course to play. Plus, it's a challenging course. The only one designed by Jack Nicklaus in Los Angeles County.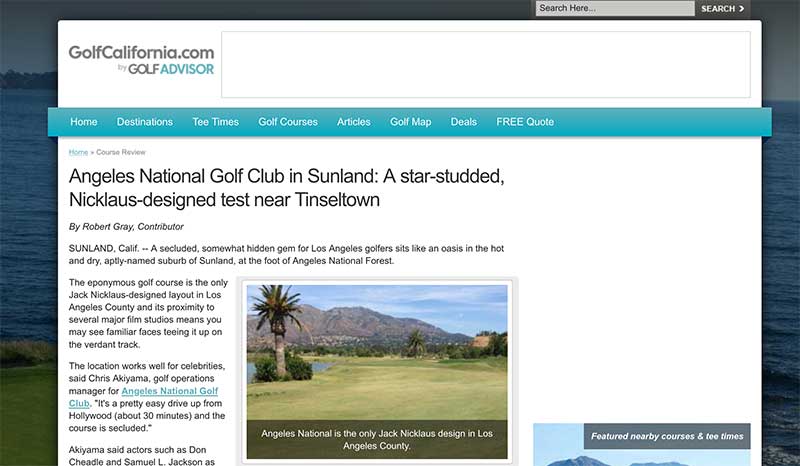 While the remote layout provides solitude, the quality of the golf course also comes into play. Opened in 2004, Angeles National offers a stiff challenge, playing 7,141 yards from the tips, with a course rating of 74.7 and a slope of 143.
The Course opened in 2004, so it's a rather recent addition to the SoCal golf scene but it draws locals and celebrities alike. Actors like Don Cheadle and Will Ferrel are known to play the course as well as several others who make the trek from Hollywood or West LA to play in relative secrecy. While most of the players on the course are just regular Joes, celebrities and next door neighbors love the course.
One things you may notice about the course is that it is not lined with tress like so many other courses around the country. This is a more wide open course and players have to be careful not to slice onto another fairway.
All said, we in Sun Valley are proud to claim this as our "own" golf course and one of the best in the Los Angeles area. IF you're an avid golfer coming to Southern California in the winter months to get some tee time in, I suggest flying to the Burbank airport and staying in Sun Valley. From here it's only 10 minutes or so to the Angeles National Golf Club. By staying in Sun Valley and using our neighboring Burbank airport you avoid the hassles of LAX as well as the drive on our always-busy freeways. You're only a few minutes from one of the best courses in the country.
Weekday rate for the Club start at $95 and go up to $180 on weekends. Reservations must be made online. Join me, your Sun Valley host, Jose Mier as I hit the links with you!
Summary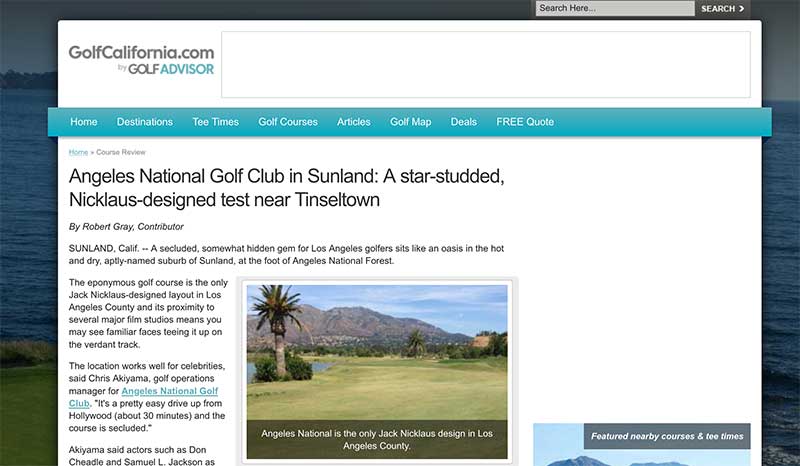 Article Name
World Class Golf Near Sun Valley
Description
World class golf near Sun Valley is only 10 minutes away. Jose MIer's favorite: Angeles National Golf Club.
Author
Publisher Name
Publisher Logo