From Jose Mier: The section of Interstate 5 which runs directly through Sun Valley will be closed this weekend as crews begin to demolish the bridge which spans the freeway at the Burbank Blvd. exit. The exit has been closed for some time as construction has begun on the new on-ramp.
This photo below shows one last looks at the bridge.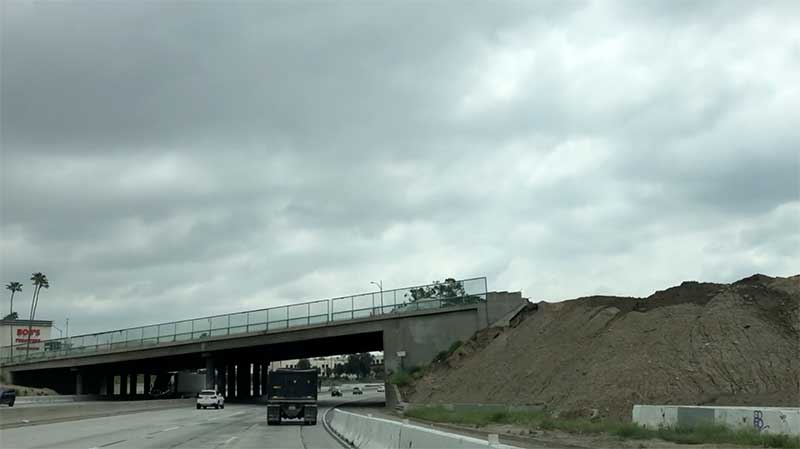 I took a drive a couple days ago along the 5 freeway through Sun Valley into Burbank to take one last look at the bridge which is going to be destroyed between Saturday April 25 and Monday April 27. During that time, the length of the 5 freeway will be closed to traffic starting in the north at the 170 freeway and continuing to the south at the point where the 134 freeway meets the 5.
The My5LA.com website has a lot of information on all the construction that's taking place on the 5.
Will Sun Valley Stretch Be Repaved?
One point which no one seems to be able to answer to my satisfaction is, will the current sections of the i-5 freeway which run through Sun Valley also be overhauled. The stretch of freeway in this area is possibly one of the worst in the state, if not the country. I'm constantly jarred by bumps and potholes in this section every time I drive through Sun Valley. This has gone on for years—decades actually. I'm sure it is due to the heavy amounts of truck traffic we get going through our Sun Valley area.
If repaving this area is on the schedule, that would be great. So far I have been pleased with what's gone on, especially the new Empire Ave. exit which is a new convenient off-ramp to access parts of Burbank more easily than before. In the past we had to use Hollywood Way or Buena Vista St. to get to places in the center of Burbank. It's now much less hassle.
We'll have to wait and see what the new bridge will look like once it's done, however, I wanted to take one last look to compare now an then. I'll be taking another drive to see what the effect is after the bridge has been demolished.